EAT THE REAL by Sam Swanson
Kimberley Cosway is the Executive Chef at Heartwood Provisions in Seattle, Washington. Their menu offers a selection of dishes showcasing the best local seasonal produce. Chef Kimberley has worked in numerous top restaurants in the United States and France. In January 2016, she joined Heartwood Provisions as their first Sous Chef, before later taking over the Executive Chef role. To get to know Kimberly, we asked her a few questions and to share one of her favorite recipes – Cauliflower Pasta!
What do you like to cook and why?
"I love cooking because it brings people together. For me, it is a vessel to express myself, my memories, and my travel. I started cooking early on in life. I was 16, in high school, and had some extra credits available, so I decided to take a Creative Cooking class. There I learned the fundamentals; knife work, the muffin method, mother sauces, etc. My teacher, Cecilia Stec, saw a spark in me and asked me to enroll in the Advanced Cooking Class and join the culinary competition team. So, I did. My senior year, I dropped volleyball, a sport I had been playing seriously for 5 years, and pursued cooking to the fullest. By encouraging me to try something new, Mrs. Stec opened so many doors for me. She was the biggest support and inspiration in my culinary career, and thanks to her, I am where I am today.
My style of cooking is very Pacific Northwest with some Asian and Mediterranean influences. Through chefing, I have been able to travel a bit, picking up inspiration from the countries and cultures I have visited, while also taking advantage of the wonderful techniques and ingredients here at home. I truly enjoy utilizing my memories from childhood, experiences from travel, and knowledge from my friends to develop modern yet familiar dishes."
What is your best cooking tip?
"Don't be afraid to try anything. In order to cook well, you have to make mistakes and learn from them. I think of Julia Childs on TV rolling with the punches when she would mess something up. That's what cooking is about. So, buy the vegetable that you can't pronounce, google it, and cook it with confidence!"
What is one thing you would change about the restaurant industry if you had the power to do so?
"Well, since I am in the industry, I do have the power to change things. At least that's what I tell myself, haha. It is part of our duty. Currently, I am changing the culture of chefs and cooks being abrasive with the front of house staff and with guests. We have an extremely open kitchen at Heartwood, and my chefs and cooks interact with guests every day at our chefs counter. We answer questions and put on a smile, even when we are in the weeds. I try to touch as many tables as I can, to get feedback and engage with our guests. We do an amazing amount of training with the front of house staff so they know what the food tastes like and can describe it to our guests. It's a cohesive restaurant, because of good attitudes, willingness to learn and high standards for treating everyone with respect. I believe here at Heartwood we have overcome the classic foh vs. boh battle. I hope that as people come and go through our door, that they continue this good example at their next restaurant."
What are your favorite dishes to cook on your current menu that you recommend the most to diners?
"I have many favorite dishes on my menu right now. It's hard not to recommend them all, but the two that I recommend most are the Tomato Nectarine Salad with buttermilk ricotta and Thai basil, and the Wild Sea Scallops with summer succotash and cauliflower puree. These two dishes highlight the bounty of summer in the Northwest."
Why did you choose this recipe to share?
"I decided to share this recipe because it's one of my favorites to make. My family loves it and it is near and dear to my heart. While I was in culinary school, I studied in Italy, and as part of an internship, worked in a restaurant there. The first "family meal" I had there was pasta with cauliflower, lemon, capers, and parmesan cheese. It was so delicious, I had to recreate it. On the opening day of Heartwood, I continued the tradition and made this for our first family meal. It was a dish that was well-received but too rustic, I thought, for the actual menu. Chef Varin, our opening Executive Chef, loved it and told me to put it on the menu. So, I tweaked this rustic dish to make it Heartwood ready, adding an anchovy brown butter crumb, pimenton oil, and a roasted garlic squid ink puree. It was my first dish on the menu as the Sous Chef, continuing the story and life of this humble dish."
Recipe: Cauliflower Pasta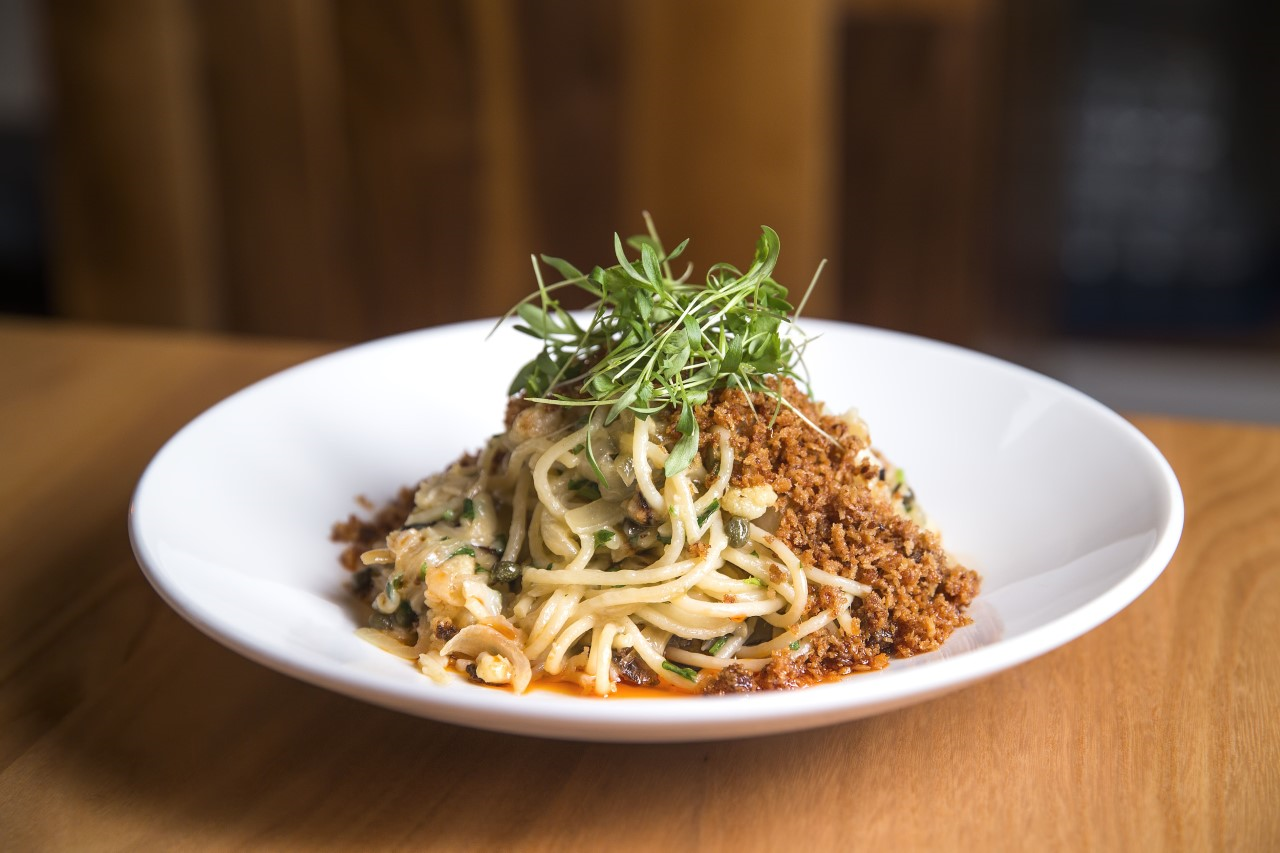 Sauce:
Olive oil 4oz.
Garlic (minced) 1oz.
Yellow Onion (thinly sliced) 1ea.
Chili Flake ½ t.
Cauliflower (stem and leaves removed, cut into ½ inch slices)
Capers (drained and rinsed) 3oz.
Lemon (juice and zest) 3ea.
Salt 2t.
Parmesan (shaved) 2oz. or to your taste
Procedure:
Preheat oven to 450 degrees Fahrenheit
In a large bowl, place cauliflower and toss with 2T. of olive oil and 1t. of salt.
Place cauliflower on a baking sheet and bake for 8-10 minutes. It should browned but not mushy. Cool at room temp while assembling the sauce.
In a sauté pan place the rest of the oil, onion, garlic and chili flake. Sauté on medium heat until onions are slightly translucent.
Add cauliflower to the pan, followed by the capers. Cook for 2-3 minutes to incorporate.
Remove the pan from the heat and add the lemon juice and zest. Stir to incorporate.
Taste and season with salt. Add Cooked pasta.
Garnish with parmesan cheese and anchovy crumb.
Pasta:
Eggs 4ea.
Flour 11.5 oz.
Semolina Flour 6oz.
Kosher Salt 1t. + more for water
Water 1.5oz.
Olive Oil 1.5 oz.
Procedure:
In a large bowl place both flours and salt. Set aside
In another bowl mix together the eggs, water, and oil.
In the flour bowl make a well, pushing the flour to the side of the bowl. Add the liquid mixture.
With a fork, working from the inside of the well, mix until you can no longer mix with a fork.
Remove dough from bowl onto a clean work surface. Knead for 8-10 minutes. This develops a really great chewy pasta.
Place dough back in the bowl and cover with plastic wrap. Let it rest for 1 hour in the refrigerator.
Remove the dough and cut into manageable pieces.
Run dough through pasta machine, laminating several times to get a smooth dough, get it as thin as possible and run through the spaghetti attachment.
Fill a large pot with water and salt. (It should taste like sea water)
Boil pasta for 3 minutes, strain and add to pasta sauce.
IF YOU DO NOT WANT TO MAKE YOUR OWN PASTA: Just buy a thin spaghetti and cook it according to the package.
EAT THE REAL by Sam Swanson